U-WAV Touchless Switches
Open doors with a wave of the hand.
Our touchless wall switch makes opening a door simple and germ free. Blue LED back-lighting highlights the switch at all times, other than during activation. This provides a visual reference of the switches location in low light conditions. Its low profile design makes it blend into your wall. The U-WAV switch also comes with a bevel plate that can be used to create a different look.
Applications
Cleans Rooms
Pharmaceutical
Rest Rooms
Food Processing
Restaurants
Physicians' Office
Medical & Semiconductor
Hospitals & Clinics
Anywhere hygiene and convenience are needed
U-WAV's universal plate design fits most standard single gang electrical box sizes. FCC approved.
Available Colors

Part Numbers with Description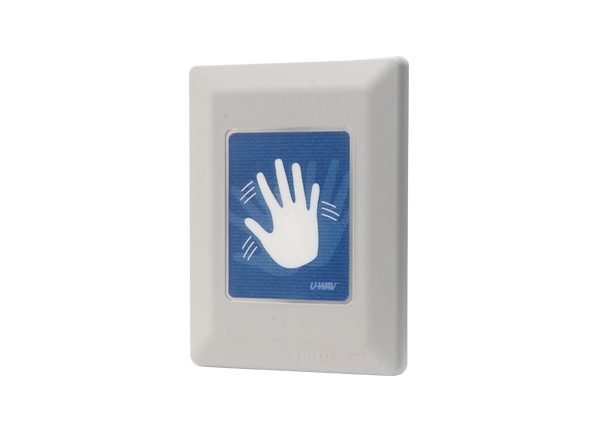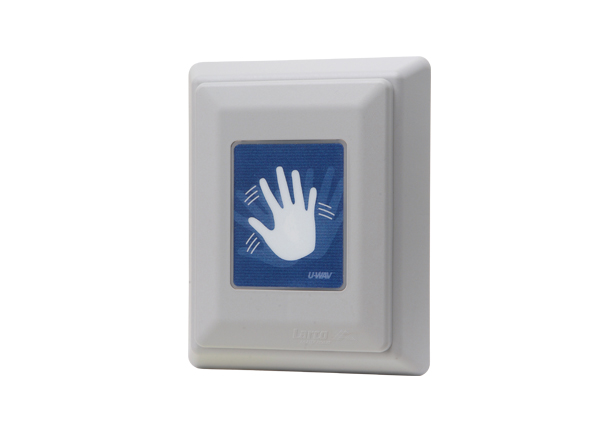 U-WAV Touchless
Part Number
33681700 (Gray)
33681711 (Black)
33681720 (White)
Detection Method
K-Band 24.117 GHz - Microwave Motion Detection
Detection Range
0 to 15 inches +/- 1-2"
IP Rating
IP54
Power Supply
12-30 VDC,
12-24 VAC
Current Consumption
40 mA (24 VDC)
Power
< 1.4W
Transmitting Power
16 dBm
Relay Output
1C type relay (one switching contact)
Output Hold Time
1.2 sec (in pulse mode)
Max. Switching Voltage
125 VAC, 60 VDC
Max. Switching Current
1A
Min. Detection Speed
0.03 ms
Sensitivity Adjustment
Potentionmeter low to high
Operating Mode
Toggle or Pulse
LED Indication
Blue = Normal power on
Off = Detecting
Operating Temperature
-4˚F to 140˚F (-20˚C to 60˚C)
Operating Humidity
0 to 90%
Available Colors
Gray (standard), Black and White