HandiTap Push Plate Switches
Larco HandiTap push plate switches are available in either 36" or 9" tall (for dual mounting). Choose from hardwired or radio controlled (optional) switches.They feature a vertical, rounded design made with anodized, extruded aluminum and sloped ABS caps that are aesthetically pleasing, while providing reliable operation. Its rugged, durable design and slim profile make it ideal for wall or post mounting inside or out.
They are a perfect replacement for traditional push plate switches that can be inconvenient not only for wheelchair users, but also for those who have their hands full or other physically challenged individuals.
Available in clear anodized aluminum
Smooth, curved touch surface allows for activation from a wide range of angles
Sloped caps eliminate use as a shelf
Weather resistant, rugged construction
Wireless 433 MHz Ultra-small Transmitter (optional)
Handicap logo with "Press to Open graphic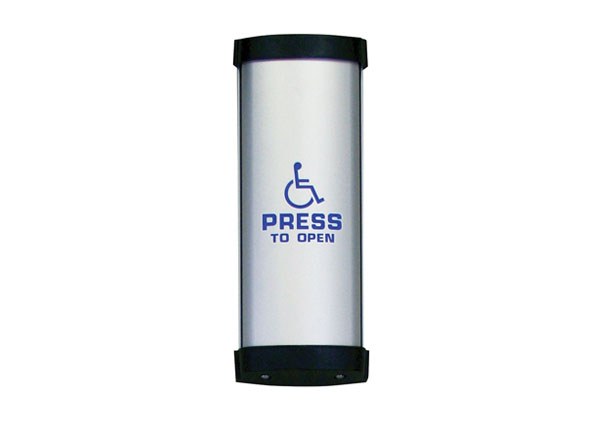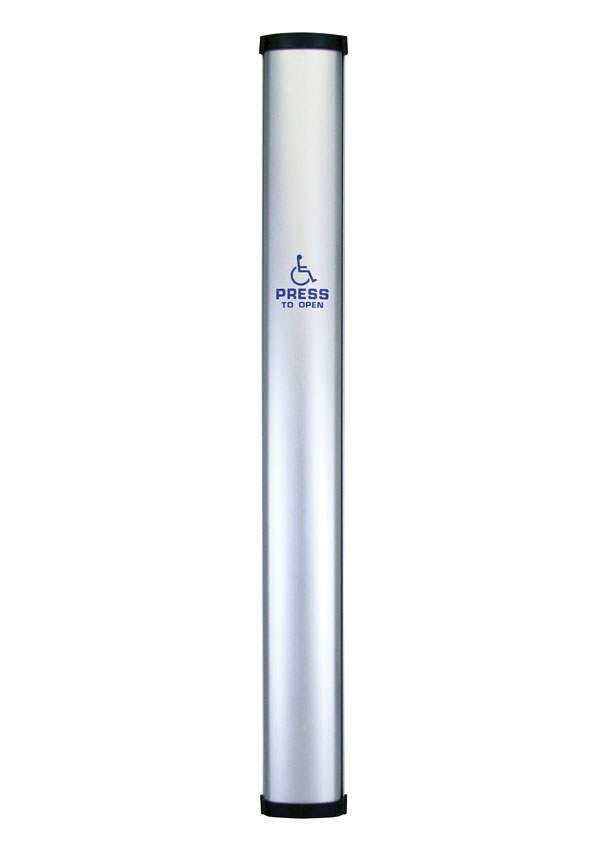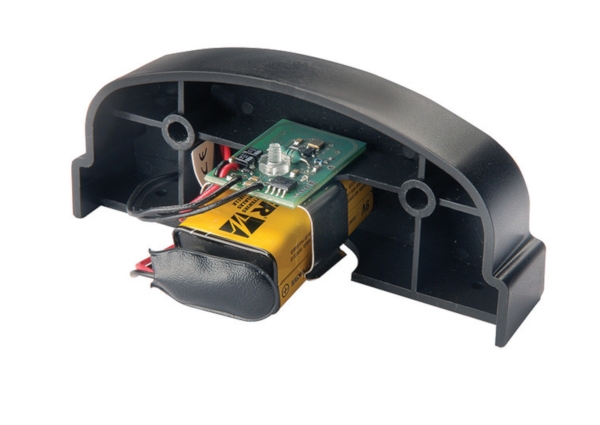 9" HandiTap
Part Numbers
9" Clear (9V1N00)
9" Clear with 433MHz Transmitter ( 9V1N400)
Material/Finish
Clear Anodized
Electrical/Power
12 - 24 VAC/VDC – Hardwired,
9 VDC (battery) – Wireless Transmitter
Operating Temperature
-40ºC to +60ºC (-40ºF to +140ºF)
Dimensions (WxHxD)
4.28" x 10.68" x 1.82"
Standard Engraving
Handicap Logo/Press to Open
Mounting Options
Wall or post mounting
Operating Options
Hardwired or Wireless Transmitter
(433 MHz)
Radio-Control Signal Range
Up to 100 feet with Larco's Ultra Small transmitters
Activation Switch Type
(1) NO or NC
Activation Switch Rating
15A @ 125 or 250 VAC or 2A @ 48 VDC
36" HandiTap
Part Numbers
36" Clear (36V1N00)
36" Clear with 433MHz Transmitter ( 36V1N400)
Material/Finish
Clear Anodized
Electrical/Power
12 - 24 VAC/VDC – Hardwired,
9 VDC (battery) – Wireless Transmitter
Operating Temperature
-40ºC to +60ºC (-40ºF to +140ºF)
Dimensions (WxHxD)
4.28" x 37.68" x 1.82"
Standard Engraving
Handicap Logo/Press to Open
Mounting Options
Wall or post mounting
Operating Options
Hardwired or Wireless Transmitter
(433 MHz)
Radio-Control Signal Range
Up to 100 feet with Larco's Ultra Small transmitters
Activation Switch Type
(1) NO or NC
Activation Switch Rating
15A @ 125 or 250 VAC or 2A @ 48 VDC